Tutorial
---
How to join the Matrix network
There are humanitarian reasons as well as economic reasons to join Matrix. This article assumes that you are willing to give it a try, and I'll explain to you how to join it!
Privacy and data sovereignty are guaranteed on Matrix, but it can be difficult and confusing to join the network. This is a simple tutorial that will help you set up your Matrix account.
Quick guide
If you can't choose, take the following options. Pick Element on step 1. Pick nltrix.net if you speak Dutch and live in Europe, otherwise pick matrix.org on step 2.
Step 1: choose a client
You have to use an app to talk on the Matrix. It doesn't matter which app you choose, however! All are fine, and all can communicate with each other. Moreover, you can always switch apps whenever you change your mind.
If you want to choose a client yourself, you can find a list of available clients here. Otherwise, let me give you some recommendations.
Element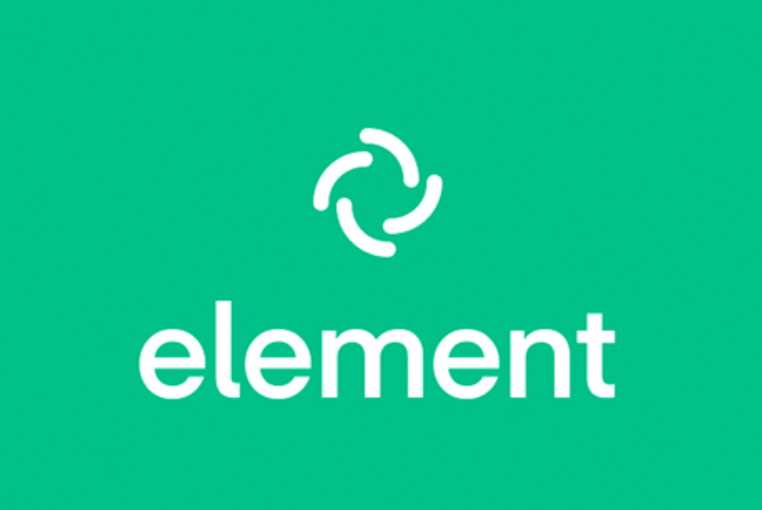 Element is the app that is actively maintained by the Matrix organisation.
Platforms: Browser, Windows, Linux, Android, iOS
✅ Usually the quickest app to get the latest updates;
✅ Officially supported by the Matrix organisation;
✅ Supports all Matrix functionality;
❌ Made for programmers and can sometimes be a bit complicated.
FluffyChat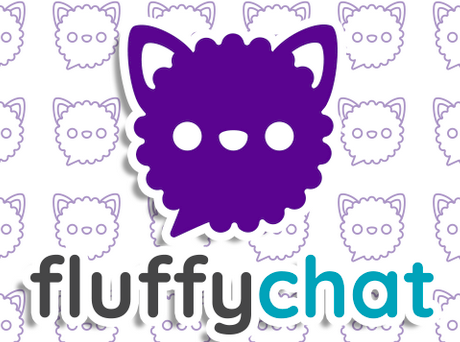 FluffyChat is an open source app that is easy to use and very user-friendly. Its functionality is limited, which means it's both easy to understand but also limited in what it lets you do on Matrix. This app is best fit for children and for people who aren't very familiar with social media.
Platforms: Browser, Linux, Android, iOS
✅ Easy to use and pick up;
✅ Simple UI;
❌ Limited functionality.
matrixcli
If you're a programmer who hates GUIs and loves to run direct commands in the terminal for all their commands, then matrixcli is just what you need.
What is there to say? It's a command line client. I bet that Vim-lovers enjoy this kind of client.
✅ Super minimalistic on your computer's performance;
❌ A huge no-no for people who can't program;
❌ The lack of interface can make it tedious to use for some people.
Miitrix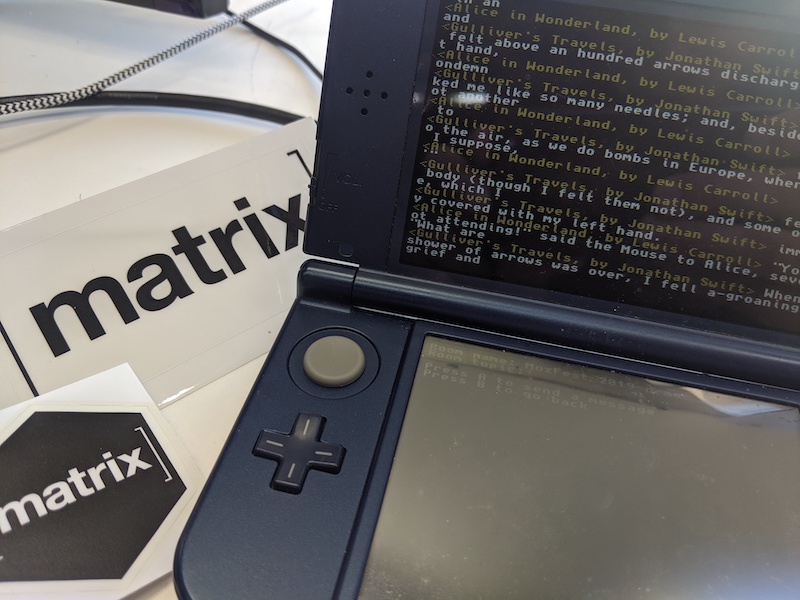 What?! You can talk to the Matrix network from your Nintendo 3DS?! That's right, with Miitrix you can! I don't know why you'd want to, but I guess you could.
✅ You can use it on a Nintendo 3DS;
❌ You can only use it on a Nintendo 3DS.
Step 2: choose a homeserver
You are free to use whichever server you like. This server will host your account and your data. Currently, you cannot move accounts to different homeservers, so you can currently only switch between homeservers by creating a new account.
I would recommend one of the following homeservers. Alternatively, you can choose a homeserver yourself. The homeservers from this list should be fine.
Server name
Domain
Description
Matrix Server
matrix.org

Official Matrix server
Up-to-date guarantee
Sometimes laggy because it has too many users

NLtrix Server
nltrix.net

High-performance free Dutch server
Very fast for residents in the Netherlands

KDE server
kde.modular.im

Powered by a donations from a community
Really cares about privacy
Step 3: create an account
Install the app that you chose in step 1. Make sure to choose your right homeserver before you create your account. For example, if you choose the NLtrix server in step 2, make sure that you create an account on the domain nltrix.net. Most apps have matrix.org by default.
Step 4: connect to your friends
If you need help, join the room #matrix:matrix.org. Here, strangers on the internet are happy to help you move forward. Additionally, feel free to contact me at @bram:noordstar.me for support.
If a friend sent this article to you, they'll probably have an account and I'm sure they'll be happy to help you out. Send a chat request to them, and you'll have your own fully end-to-end encrypted message with your friend!
Step 5: connect with people on other platforms
The whole point of Matrix is that it can even talk to people on other platforms! I'll write articles on how you can connect your Telegram and Discord conversations soon. Once I've written them, I'll post them down here.
You can also figure it out for yourself on t2bot.io.
For now, enjoy your truly private conversations on Matrix!